Widespread Respect Definition Essay
I am the least athletic person you will ever meet.
From the time I was a child, I always dreaded fitness. In fact, some of my least favorite memories of elementary school are of "the run," the standard fitness test in which all of the children in any given grade would have to try to run a certain distance (determined by age) within a fixed amount of time.
I remember wanting so badly to beat whatever time was set as the "benchmark." Although not often, I would occasionally see this goal through - however, at a price. I remember, even at seven years old, my lungs would burn and my side would hurt when I ran. Although I was never technically diagnosed with asthma, for whatever reason, I visibly struggled more than most of my peers who were asthmatic.
Still, I was always a skinny child. And other than adopting a largely vegetarian diet at a very young age (the reasons why being a whole different story in and of itself), I never paid very much attention to what I ate. While compared to most children, my food intake was relatively good... I still ate a lot of junk. For example, despite having two medical professionals as parents, I was raised having sugary snacks every night before bedtime (such as two big chocolate chip cookies or a big slice of cheesecake).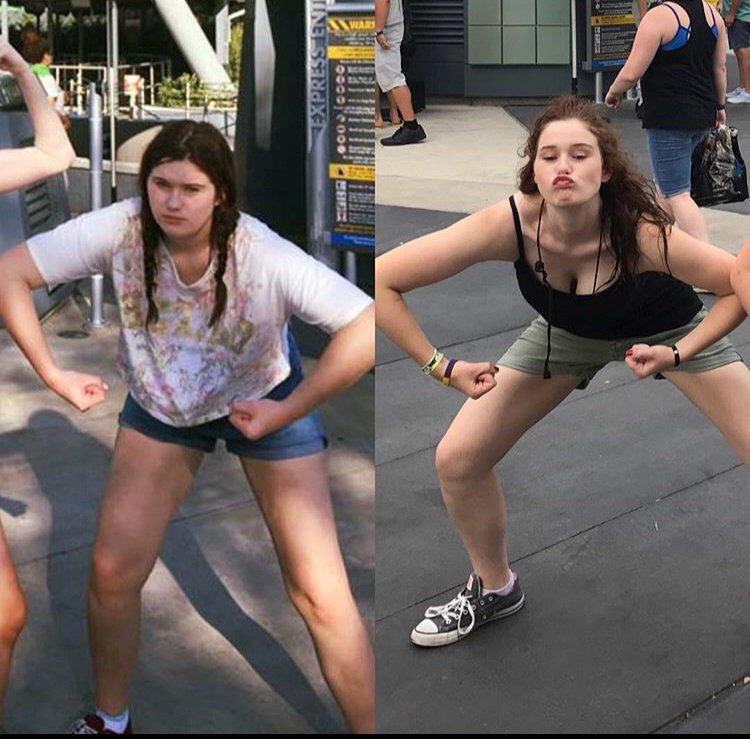 One of my favorite transformation pictures, posing outside of the Hulk Roller Coaster at Universal Orlando, 4 months apart.

Yet, I was still thin when I hit puberty. I was thin when, for the first time in my life, my health became rocky.
One day in the ninth grade, I awoke to agonizing abdominal pain. Even though the pain was torturous, I didn't want to go to the Emergency Room, as my parents had both worked in ERs, and had told me stories of people who took advantage of using the ER when they really didn't have the need for it, and I was, consequently, scared of being "that person." A day later, the pain subsided. However, it came back the next month, before subsiding again... just to come back the month after that. Finally, during my third round of pain, my dad dragged me to the ER.
I had an ovarian torsion (three times around). Which, is basically as pleasant as it sounds. At the age of fifteen, I literally went into a form of organ failure. (Also - side note: if you EVER feel acute pain or if something doesn't seem right, please DO NOT hesitate to see a medical professional ASAP). I lost an ovary and a fallopian tube. Consequently, my OB-GYN immediately started me on hormonal birth control, as it can help prevent the ovarian cysts that often cause torsions (a preventative measure in order to keep the remaining side of my reproductive system healthy).
Being a late bloomer, I had only started puberty about a year and half prior to this occurrence, and now, in addition to puberty, my hormones were thrown out of whack. In the midst of this experience, I developed an unhealthy mindset - that my body, including my weight - was out of my control.
So, I continued to eat the way that I always had, ingesting cookies every night and eating at least two large portions at every. single. dinner. From my sophomore year through my senior year of high school, I steadily gained weight. And, just like with most people, the start of college certainly didn't make my eating habits any better.
I guess it's no shock that I eventually became overweight. I tried to ignore my weight gain until last spring break. Taking pictures with my friend, who had gotten into health and fitness a couple of years prior, I felt like the "fat friend," and even though now I am able to look back and see beauty in myself no matter my weight, and know that "fat" is FAR from synonymous with ugly, at the time - I felt ugly and gross.
That same spring break, I got my teeth whitened for the first time. Now, I know that you're probably thinking: what the heck does this have to do with health and fitness? Well - here's my answer; after getting my teeth whitened, I had to limit my diet to white, processed carbs for a couple of days so that I wouldn't stain my newly white teeth. While the food that I ate for these days was a far cry from health food, it was the first time that I came to the realization that I had the power to control what I ate.
After that spring break, for the first time in my life, I decided to make a change in my lifestyle. It started small, by simply not going up for seconds at dinner. I also downloaded an at-home workout app, working out only once every week or two.
Slowly, I started to workout more and more. After school let out, despite my continued hatred for cardio, I would spend 30 - 60 minutes a day on my mom's treadmill, trying to burn off calories. I didn't know how else to work out: as all my mom ever did was light cardio, my exchange sister also was a "cardio-bunny," and my dad had never been into fitness.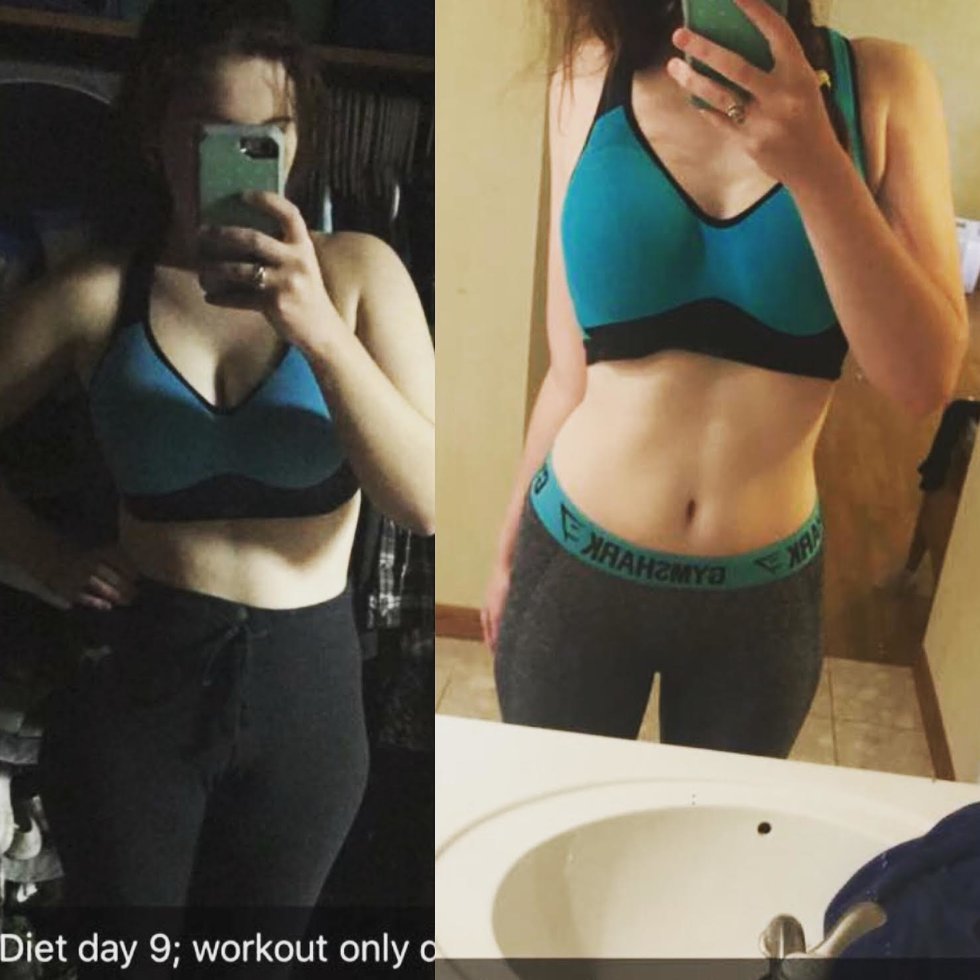 My transformation, from near the very start, to twenty pounds down!

I continued doing cardio and app-based workouts while on Walt's Pilgrimage this past spring, a Study in the States program through WMU's Lee Honors College that brings one to Chicago, Missouri, San Fransisco, and LA over the course of a single week in order to study the life of Walt Disney.

While the course was incredible, I felt so alone being the only one who headed to the hotel gym after long and intense days. Still, at this point I had shed upwards of ten pounds, and was determined to keep going.
After returning from the trip, I made a renewed effort to clean up my diet, focusing especially on protein intake, being a vegetarian. I began drinking protein shakes daily and eating protein bars consistently.
It was at this point in my journey that my friend told me about Grand Haven Fit Body Boot Camp (as GH is my hometown and was my summer residency last year). Still having very little clue what I was doing in the gym, I decided to give it a go. I still remember the first workout. It was HARD. But I came back, and kept coming back day after day. I had a "tribe" of workout friends to help get me through. We would joke around with the trainers about how much we "hated" the workouts, even though we all loved the way they made us feel afterwards. (Another quick side note to my current coaches: if I seem cynical, this is definitely why, I PROMISE that I am just being sarcastic!) And even though I was still an un-athletic, red, sweaty mess - by the time July rolled around, I was consistently doing two sessions a day at Boot Camp. I shed off the weight - twenty-five pounds by the time I left for summer school in the United Kingdom at the University of Cambridge at the beginning of August.
While I still occasionally worked out at Cambridge, I suspended my diet (with no regrets) in order to best experience my time abroad. (For me, personally, I want to experience the world through the food it has to offer, and sometimes this means giving up monitoring my diet for short periods of time. What I have found however, is that as long as I am consistent in my day to day life, it ultimately does not affect my progress, and helps me to maintain a healthy relationship with food.)
Coming back to Western in the fall, I was ready to get back into it. However, this time I didn't have my friends to workout with. Yet, I still had faith in the FBBC franchise, so I decided to sign up at the Kalamazoo location - alone. Even though I was intimidated, I walked into the building, signed up, and have attended regularly ever since.
By October, I had lost thirty pounds. I was back to being relatively thin. My confidence was up. Soon after, I began to try other fitness classes. And this past spring break, I began to finally workout using machines and weights. I am planning to start weight training more often. I also have an appointment with a nutritionist to revamp my diet, as now, after weight-loss, I am ready to see my body's full potential. What it is capable of. What I am capable of. (However, FBBC still holds a large place in my heart for the instrumental role that they played in my weight-loss, and I plan on continuing to attend sessions there.)
Despite my success, I would still get discouraged. Even though I had an overall trend of weight loss, I would occasionally gain a little weight instead of losing weight between individual weigh-ins. In addition to this, even as I did lose weight, like many girls, I began to see attributes that I liked about myself (to be blunt - such as my breasts and booty) shrink before my very eyes. To this day, I still get discouraged. Over spring break, I literally broke down crying because I haven't improved - only maintained, since October. Some days, my body confidence is through the roof and all I want to do is take bikini pictures on the beach. Other days, I still feel "blah" about my body, like it's not good enough and there's so much more that I can achieve. I still compare myself to others, even though I know that I shouldn't.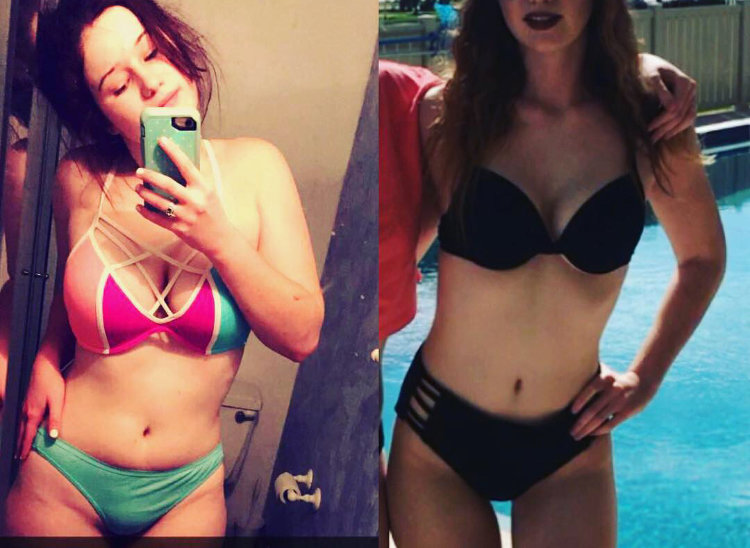 My one year transformation! March 2017 - March 2018! Thirty pounds down and determined to continue to tone up in the next several months!

My journey, just like anyone else who has had a journey in health and fitness - is ongoing. It's a constant process, full of failures successes, and, quite literally - sweat and tears.
Recently, after a Fit Body Boot Camp session, the coaches asked our group why we were there. I remember thinking "Man, I could write a book on why I'm here!" but I simply answered: "It improves my mental well-being and positive thoughts," which wasn't a lie. It does. After a workout, I am often feeling relatively confident and am less prone to the anxious and paranoid thoughts that often cloud my brain.
But it's so much more than that. I started to workout to lose weight that I put on due to both medical reasons that were out of my control and poor personal choices that were completely within my control. However, I now feel empowered by working out and eating healthy. I feel like, ultimately, I have taken back the power that I thought I lost when I started gaining weight.
After that session, being the emotional person I am, I went back to my car and cried. I cried for myself and the roller coaster of a journey that I have been on. I cried for everyone else in that building and how they found themselves there. I cried because I saw so many others who were taking back power that they once felt had been taken away from them.
I am still the least athletic person you will ever meet, but you know what? Now, I am proud of it. Because even though I am not a natural athlete, I make an effort, nearly every day, to be stronger, both physically and mentally, than the day before. To me, this is what matters the most.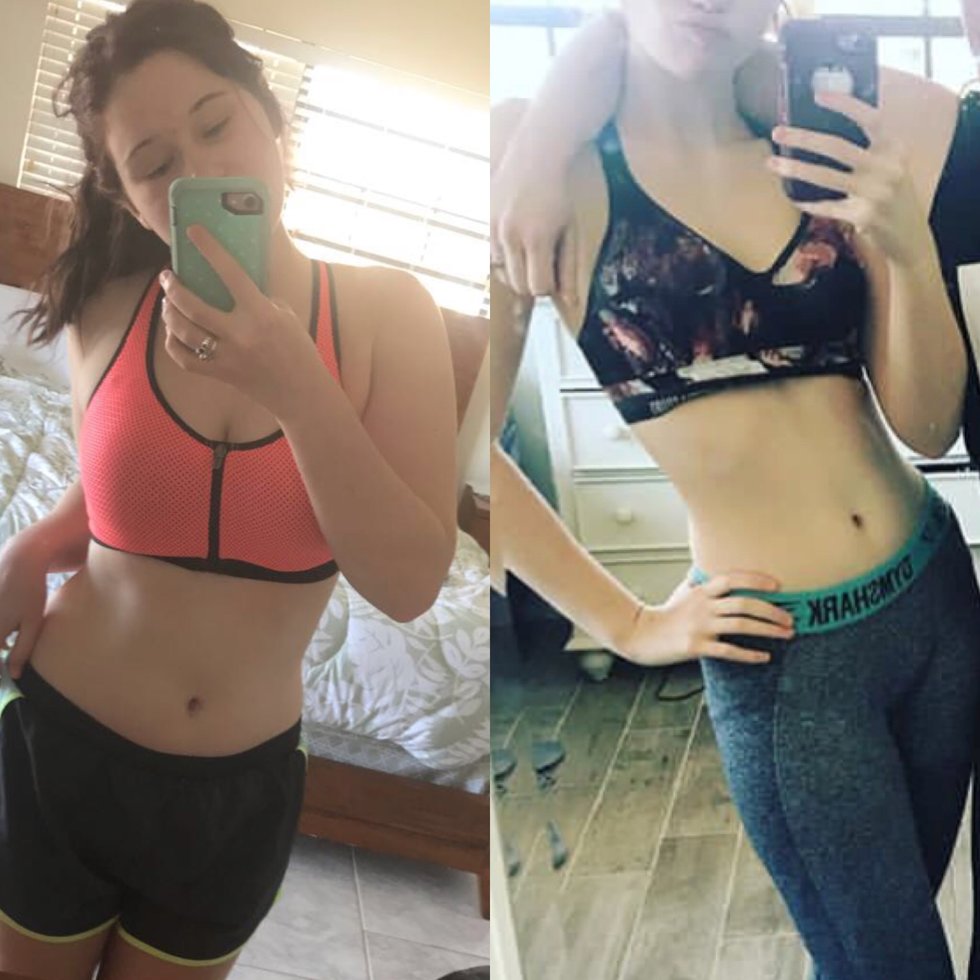 My transformation from day 1 of my lifestyle change... to (roughly) day number 365!

Urbanization--the move of people, cultural centers, and political influence to large cities
Subjectivism--the turn inward for definitions and evaluations of truth and meaning
Linear-progression--preference for forms of reasoning that stress presuppositions and resulting chains of propositions
Objectivism--the belief that truth-claims can be established by autonomous information accessible by all
Universalism--application of ideas/claims to all cultures/circumstances regardless of local distinctions
Reductionism--the belief that something can be understood by studying the parts that make it up
Mass society--the growth of societies united by mass media and widespread dissemination of cultural practices as opposed to local and regional culture particulars
Industrial society--societies formed around the industrial production and distribution of products
Homogenization--the social forces that tend toward a uniformity of cultural ideas and products
Democratization--political systems characterized by free elections, independent judiciaries, rule of law, and respect of human rights
Mechanization--the transfer of the means of production from human labor to mechanized, advanced technology
Totalitarianism--absolutist central governments that suppress free expression and political dissent, and that practice propaganda and indoctrination of its citizens
Therapeutic motivations--the understanding that the human self is a product of evolutionary desires and that the self should be assisted in achieving those desires as opposed to projects of ethical improvement or pursuits of public virtue
Modernity is often characterized by comparing modern societies to premodern or postmodern ones, and the understanding of those non-modern social statuses is, again, far from a settled issue. To an extent, it is reasonable to doubt the very possibility of a descriptive concept that can adequately capture diverse realities of societies of various historical contexts, especially non-European ones, let alone a three-stage model of social evolution from premodernity to postmodernity. As one can see above, often seemingly opposite forces (such as objectivism and subjectivism, individualism and the nationalism, democratization and totalitarianism) are attributed to modernity, and there are perhaps reasons to argue why each is a result of the modern world. In terms of social structure, for example, many of the defining events and characteristics listed above stem from a transition from relatively isolated local communities to a more integrated large-scale society. Understood this way, modernization might be a general, abstract process which can be found in many different parts of histories, rather than a unique event in Europe.
In general, large-scale integration involves:
Increased movement of goods, capital, people, and information among formerly separate areas, and increased influence that reaches beyond a local area.
Increased formalization of those mobile elements, development of 'circuits' on which those elements and influences travel, and standardization of many aspects of the society in general that is conducive to the mobility.
Increased specialization of different segments of society, such as the division of labor, and interdependency among areas.
Seemingly contradictory characteristics ascribed to modernity are often different aspects of this process. For example, unique local culture is invaded and lost by the increased mobility of cultural elements, such as recipes, folktales, and hit songs, resulting in a cultural homogenization across localities, but the repertoire of available recipes and songs increases within a area because of the increased interlocal movement, resulting in a diversification within each locality. (This is manifest especially in large metropolises where there are many mobile elements). Centralized bureaucracy and hierarchical organization of governments and firms grows in scale and power in an unprecedented manner, leading some to lament the stifling, cold, rationalist or totalitarian nature of modern society. Yet individuals, often as replaceable components, may be able to move in those social subsystems, creating a sense of liberty, dynamic competition and individualism for others. This is especially the case when a modern society is compared with premodern societies, in which the family and social class one is born into shapes one's life-course to a greater extent.
At the same time, however, such an understanding of modernity is certainly not satisfactory to many, because it fails to explain the global influence of West European and American societies since the Renaissance. What has made Western Europe so special?
There have been two major answers to this question. First, an internal factor is that only in Europe, through the Renaissance humanists and early modern philosophers and scientists, rational thinking came to replace many intellectual activities that had been under heavy influence of convention, superstition, and religion. This line of answer is most frequently associated with Max Weber, a sociologist who is known to have pursued the answer to the above question. Second, an external factor is that colonization, starting as early as the Age of Discovery, created exploitative relations between European countries and their colonies.
It is also notable that such commonly-observed features of many modern societies as the nuclear family, slavery, gender roles, and nation states do not necessarily fit well with the idea of rational social organization in which components such as people are treated equally. While many of these features have been dissolving, histories seem to suggest those features may not be mere exceptions to the essential characteristics of modernization, but necessary parts of it.
Modernity as Hope, Modernity as Doom
Modernization brought a series of seemingly indisputable benefits to people. Lower infant mortality rate, decreased death from starvation, eradication of some of the fatal diseases, more equal treatment of people with different backgrounds and incomes, and so on. To some, this is an indication of the potential of modernity, perhaps yet to be fully realized. In general, rational, scientific approach to problems and the pursuit of economic wealth seems still to many a reasonable way of understanding good social development.
At the same time, there are a number of dark sides of modernity pointed out by sociologists and others. Technological development occurred not only in the medical and agricultural fields, but also in the military. The atomic bombs dropped on Hiroshima and Nagasaki during World War II, and the following nuclear arms race in the post-war era, are considered by some as symbols of the danger of technologies that humans may or may not be able to handle wisely. Stalin's Great Purges and the Holocaust (or Shoah) are considered by some as indications that rational thinking and rational organization of a society might involve exclusion, or extermination, of non-standard elements.
Environmental problems comprise another category in the dark side of modernity. Pollution is perhaps the least controversial of these, but one may include decreasing biodiversity and climate change as results of development. The development of biotechnology and genetic engineering are creating what some consider sources of unknown risks.
Besides these obvious incidents, many critics point out psychological and moral hazards of modern life - alienation, feeling of rootlessness, loss of strong bonds and common values, hedonism, disenchantment of the world, and so on. Likewise, the loss of a generally agreed upon definitions of human dignity, human nature, and the resulting loss of value in human life have all been cited as the impact of a social process/civilization that reaps the fruits of growing privatization, subjectivism, reductionism, as well as a loss of traditional values and worldviews. Some have suggested that the end result of modernity is the loss of a stable conception of humanity and/or the human being.